2017 HD Wi-Fi Pro Grade Mini Black Box Hidden Spy Camera
Covert Black Box Spy Camera with microphone & live streaming
---
Product Highlights
Records or Streams 1080P HD Clear Video and Audio

Easy to Hide Black Box Design

Small abnd Discreet (100mmx60mm)

90 Degree Wide Angle Lens

Battery or AC Powered

View Live Anywhere in the World

Easy 5 Minute Setup Process

Continuous or Motion Activated

Streams to iPhone and Android

PC and Mac Compatible

No Monthly Fees to

Stream or Record

Records to Micro SD Card (64GB Max)

1 Year Warranty and lifetime support

---

Stream Live HD Video to Your Smartphone
The HD WiFi Black Box Hidden Spy Camera is the ultimate security camera with a discreet design that allows you to hide this hidden spy camera pretty much anywhere. It can blend in right in plain sight, hidden in a box, on a shelf, inside a stuffed animal, the possibilities are endless! The perfect choice for easy and effective security, delivering high end motion detection, expandable storage and live video on demand.

This device is full wifi enabled allowing you to stream live video direct to your iphone or Android device allowing you to monitor your home, office, or wherever you need covert video surveillance.

This Hidden camera connects to your existing WiFi network in your home or office, and streams live HD video directly to our free streaming app. That means, you don't have to be around to view live footage, you can do it from anywhere at all. If you miss something you can review recorded video with audio at your convienience.
---
Setting up the Black Box Spy Camera is Simple
---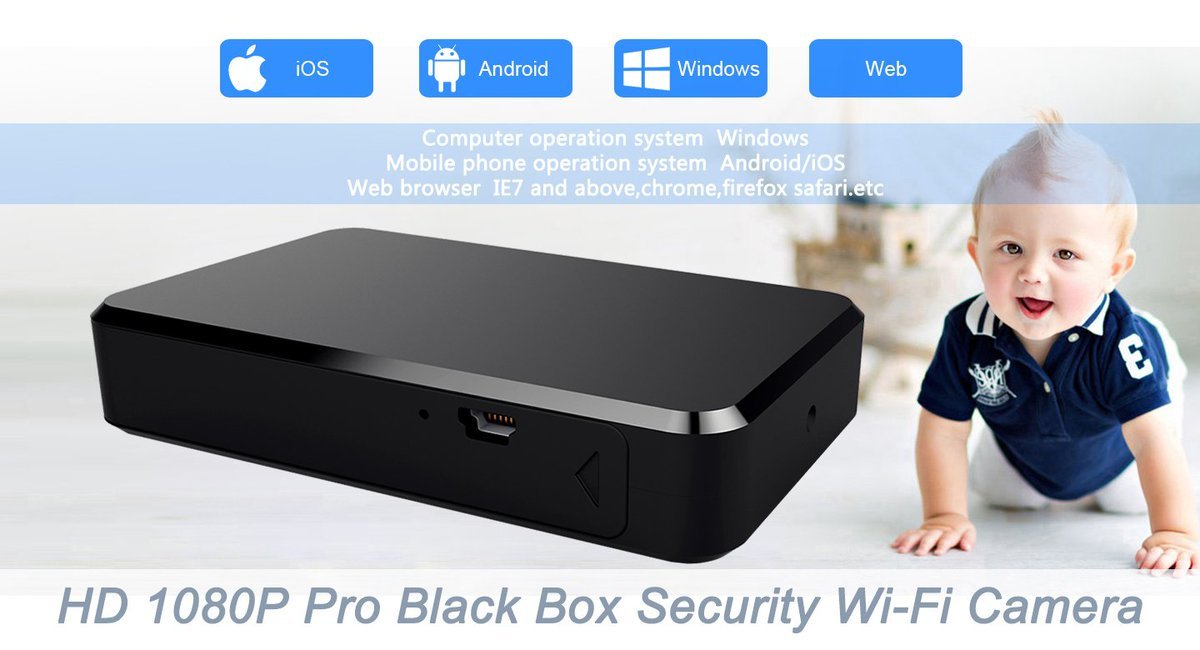 Setting up the Black Box Spy Camera is simple - just plug into AC power (or charge the battery for short term use), download the free streaming app, and you'll have the camera up and running in just a few minutes. In addition to live streaming, you can also record your video to a hidden micro SD card for later viewing. The camera accepts up to a massive 64GB memory card which can hold weeks worth of video.

Set up motion detection alerts and get notified instantly if the hidden camera detects activity - perfect for home or business security, or just letting you know when people are coming or going.
​
Popular Uses
Home Security Camera - Setup this WiFi streaming nanny Camera in your home or apartment for 24/7 security
Nanny Cam - Make sure that your babysitter or nanny is taking proper care of your children in your home
Business Security - Monitor employee productivity or just keep an eye on the break room or warehouse
Elderly Care / Nursing Homes - Ensure that your loved ones are being properly cared for and treated with respect
Catch a Cheater - Investigate suspicions of possible infidelity by a spouse or partner

---
Features & Benefits
---
Whats included?

1x Mini Black Box

1x USB Cable

1x AC Adaopter

1x Software CD

1x User Manual

1x App Quick Guide

1 Year Warranty
1080P Hidden Camera Black Box
Product Code: CAM7
Availability: Out Of Stock
$198.00

$168.00

Ex Tax: $152.73